Most adults get around two to three colds a year, and children get even more. In terms of the flu, there are around 3-5 million severe cases of influenza worldwide each year and 290,000 to 650,000 deaths.
The symptoms of a cold and the flu are similar, so it's hard to tell the difference. But the flu is usually more severe and develops more quickly than a cold.
Colds and flus can be easily passed from person to person through the air, when an infected person coughs or sneezes, and touch, when a person touches an infected surface or object like doorknobs and light switches.
So what's the difference between colds and flus, and how long should you stay away?
Colds
Cold symptoms include a sore throat, cough, runny or stuffy nose, tiredness and headache.
Most people become contagious with cold symptoms one to two days after exposure to a cold virus. These symptoms usually peak two to four days later. The common cold usually lasts about ten days.
---
Read more: I've always wondered: why is the flu virus so much worse than the common cold virus?
---
There is nothing you can take to shorten the duration of a cold, and most people will get better without needing to see a doctor. But some over-the-counter medications can help alleviate the symptoms. These include anti-inflammatories (to reduce inflammation or swelling), analgesics (to reduce pain), antipyretics (to reduce fever) and decongestants (to relieve nasal congestion).
But be careful you follow the instructions and recommended dosage for these medications. A recent study of US adults who used paracetamol, the active ingredient in many cold and flu medicines, found 6.3% of users exceeded the maximum recommended daily dose. This mostly occurred during the cold and flu season.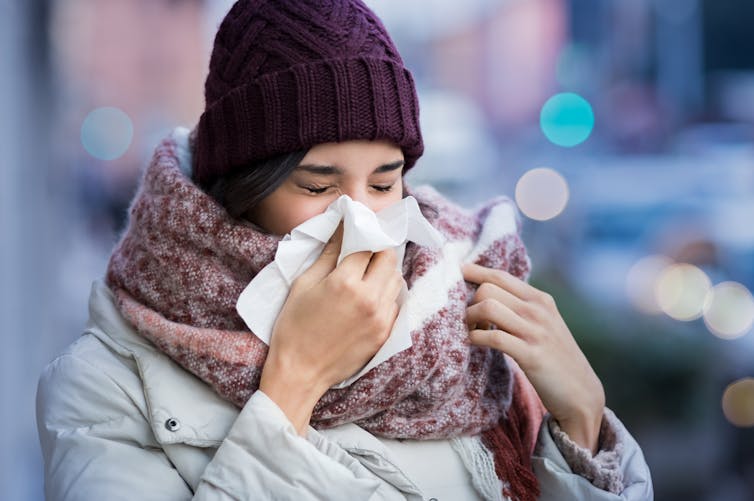 Natural products such as vitamin C and echinacea are sometimes recommended to prevent and treat a cold, but there is limited evidence to support their effectiveness.
The flu
Common symptoms of the flu include fever (a temperature of 38°C or higher), cough, chills, sore throat, headache, runny or stuffy nose, tiredness and muscle aches.
An infected person can spread the flu for five to seven days after becoming infected. The infectious period can begin 24 hours before the onset of symptoms. This means you can spread the flu without even knowing you're sick.
Influenza viruses can cause mild to severe illness in people of all ages. Most people will fully recover within one to two weeks and won't require any medical attention. Similar to a cold, people can take some over-the-counter medications and other remedies to help alleviate symptoms.
---
Read more: Explainer: what's new about the 2018 flu vaccines, and who should get one?
---
But some people can become acutely unwell with the flu. They may require antiviral medication and, in severe cases, hospitalisation. Those at high risk include pregnant women, children, the elderly, and people with certain medical conditions such as HIV/AIDS, asthma, diabetes and heart and lung diseases.
The flu virus strains that circulate usually change every year, so the best way to prevent getting the flu is to get the annual flu vaccine. The vaccine is moderately effective and recommended for adults and children over the age of six months. Some common side effects may occur, such as temporary soreness, redness and swelling at the injection site, fever, headache, muscle aches and nausea.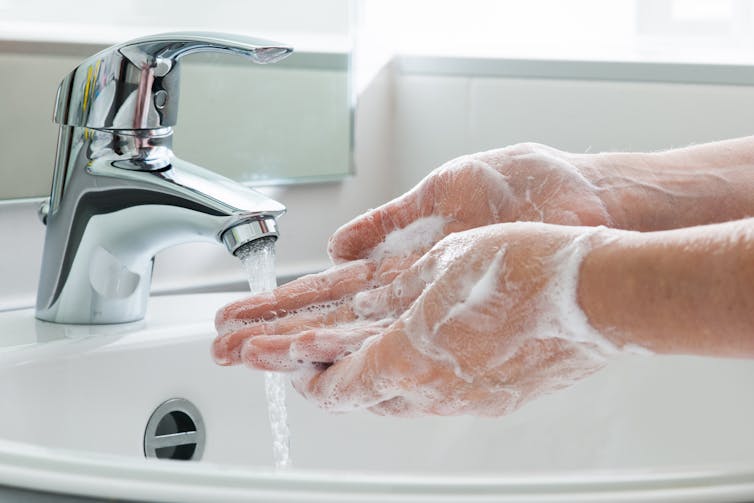 Avoid passing it on
If you feel unwell, stay home from work or school and rest (and get plenty of fluids) until you feel better. If you've had a fever, stay home for at least 24 hours after the fever has broken.
When you go back to work or school, you may still be infectious, so avoid passing the virus on by:
regularly washing your hands with soap and water for at least 20 seconds and drying them properly – if soap and water are not available, use an alcohol-based hand sanitiser
practising good cough and sneeze etiquette: cover your mouth and nose with a tissue or your upper shirtsleeve when you cough or sneeze, and throw away used tissues immediately
not touching your eyes, nose and mouth
frequently cleaning the surfaces and objects you've touched.
Article by : Nadia Charania
Senior Lecturer, Public Health, Auckland
University of Technology